Why we brought the forest to the EU HQ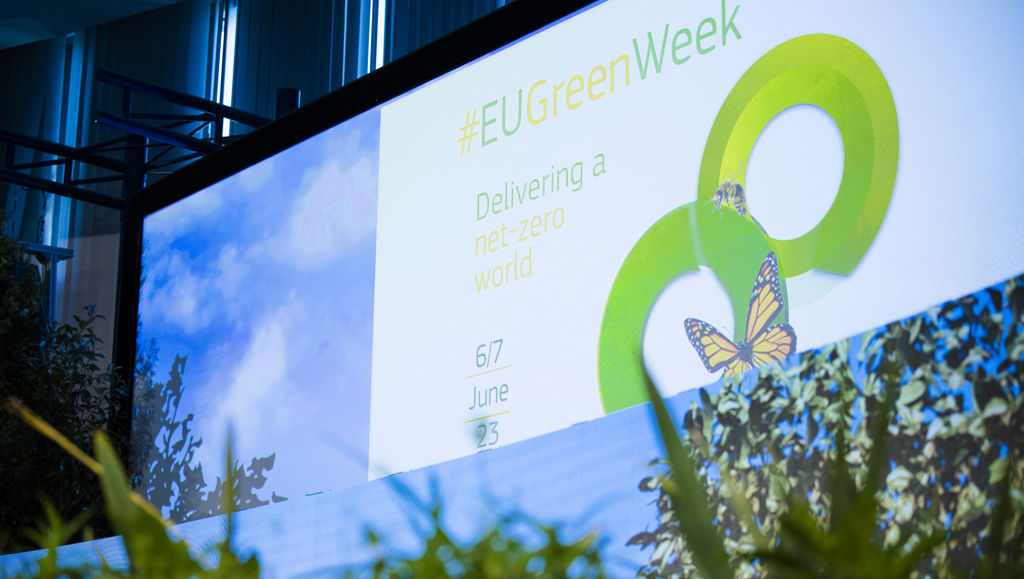 DG Environment, European Commission
Question
How did we provide a breath of fresh air for EU Green Week?
Answer
By imagining a natural space at the heart of Brussels' EU headquarters, inspiring participants and nurturing debates.
EU Green Week has existed for over 20 years – but never have the issues it features been more acute than they are today. This year, the annual forum for debate on EU environmental policies focused on 'Delivering a net-zero world'.
As event organisers on behalf of DG Environment, we aimed to deliver a 100 % green and sustainable event that would stimulate progress and set the right tone.
How? By inviting nature into the conference space, located at the Commission's Charlemagne building in Brussels. Our stage design featured real trees, background lighting that mimicked sunrise and sunset, as well as an almost 10-metre-long LED screen that completed the immersive look and feel of the setting.
This 'natural' space provided the perfect backdrop for high-level debates on important topics such as clean tech, biodiversity and the circular economy. The conference featured key speakers including environment commissioner Virginijus Sinkevičius, Spain's deputy PM Teresa Ribera, and Swiss explorer and environmentalist Bertrand Piccard.
Green design was more than just a look and feel: all elements were designed with sustainability in mind, from renting the trees at a local plant nursery to offering 100 % veggie catering and reducing waste at all levels.
Making it tangible
We also helped implement an exhibition space with diverse projects and ideas on display. It showcased for instance a 'soil health dashboard' highlighting where and how soil degradation happens.
Across the event's diverse programme, a special focus was put on environmental restoration perspectives for war-torn Ukraine, which were explored in a panel discussion with Ukrainian Minister of Environmental Protection Ruslan Strilets. The event gave a voice to young Ukrainians by featuring an exhibition of "Environment and war through the eyes of children in Ukraine".
Resonance beyond Brussels
Tipik's events team was present on-site during the 2-day event to ensure everything went smoothly, managing speakers, participants and logistics. We also helped facilitate livestreaming services to reach a larger audience who could interact with speakers on-site using Slido.
To raise awareness and increase visibility ahead of the event, we supported promotion of the conference on social media channels with tailor-made video clips and crafted its visual identity. 
In addition to the Brussels event, we helped our client select and support almost 300 partner events across Europe which received the 'Green Week' label.
By delivering an event with such a wide reach and appeal, we helped make sure EU Green Week 2023 made an impact well beyond Brussels – bringing a net-zero world a little bit closer.